An introduction to Divine Healing
This little book simply and practically encourages you to become involved in being channels for the Holy Spirit and that you will see the Kingdom of God demonstrated by witnessing signs and wonders.
More than Conquerors
Do you feel that life is just one big struggle? Do you feel weak, tired, and ready to give up? Do you feel that the last word to describe you is as a Conqueror?
Over the past 25 years hundreds of people have found that this little book has helped them understand the meaning of the armour of God and how to wear it victoriously.
The above books are each £5.00 per copy including postage and packing.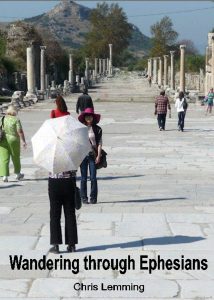 Wandering through Ephesians
The author, Chris Lemming, writes: this is a very personal book. As I read through the wonderful letter from Paul to the Asian churches I felt God clearly highlight various passages and personal experiences. I pray that you will find this book easy to read, and that you will discover more of the grace and love of God and His calling on your life in it's pages.
Let's all go up to Zion – the Psalms of Ascent
Psalms 120 to 134 were, by tradition, sung by Jewish pilgrims making their way to Jerusalem. On their way, they met all manner of challenges and situations which are common to present day pilgrimages. As you read through these psalms we hope that you will be encouraged as you make your own pilgrimage to the heavenly Jerusalem.
Taste and See
A unique international book full of recipes for meals that our AMEN partners in Africa, Europe, India, Philippines cook for themselves. This cookbook is not the usual sort that you can buy from any bookstore or from the Internet. It does not teach you how to cook; neither does it have all the expected recipes from every country in the world. All the recipes we have collected come from our trustees, their friends and our partners and they are listed according to the country where each contributor lives.
The recipes are given the names used by our contributors, which makes reading this cookbook quite an adventure leading to questions such as "What on earth is it?" and "What does it taste like?"
These three books are each £10.00 per copy including postage an packing.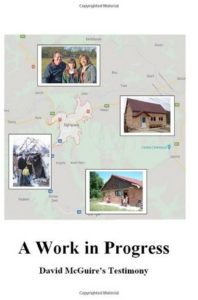 "A Work in Progress" by Dave McGuire. This is the amazing true story of how God took a roofer living in Glossop and changed him into a pastor and evangelist in the middle of Transylvania , Romania. Noa an AMEN partner, Dave McGuire grew up as "one of the lads", living a life of pubs, football, stealing, swearing, drinking, etc. If he had a goal it was to become as rich as possible. But God had a hand on his life even then, protecting Dave from himself. As you read this book you can see that there were many times when Dave has had to surrender his personal desires to follow the direction God had for him. Without doubt Dave's story shows what exciting events can happen when a person says "yes" to the call of God. (Available through Amazon)
If paying by cheque please make the cheque payable to AMEN and send with a letter identifying which books you are buying to Chris Lemming, 23 Chapel Garth, Holme on Spalding Moor, York YO43 4EG.
We regret that we are unable to post to destinations outside the United Kingdom.