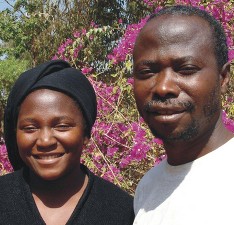 I was born in 1967 to a family where little or nothing was known about Jesus Christ. At about the age of seven I started following my friends to the church. I got involved in church activities thinking that this is what makes one a Christian.
 It was in 1979 when I was 11 years that one blind man came to our church and explained (taught) about – who is a Christian. It was there I understood and gave my life to Jesus Christ as my personal Lord and Saviour.
My life was transformed and I could see the difference. I started witnessing right there. I got baptised in 1982.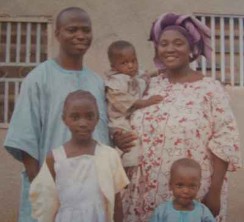 As time went on I discovered that God is laying a demand for my life in full time service which I answered the call in 1986 and went to a seminary and obtained a Bachelor of Divinity degree at the Theological College of Northern Nigeria, (TCNN) Bukaru. Since then I have been a missionary to my own people – The Eggon people of Nassarawa State.
 In 1996, I married Gladys, a graduate of Linguistics from the University of Jos. We have 3 children: Praise, Ebenezer and Refuge. Gladys teaches in a secondary school. Praise has started school and Ebenezer is in a play class.
 Mission Field House was born out of the burden I had for my people, the Eggon people, since I became a Christian. It has always been that I have wanted to reach my people with the gospel. When I finished my Theological training, I joined the staff of the Great Commission Movement ( Campus Crusade For Christ) for three years and was released to face this work.